Many of the beautiful jewelry available today are made of silver. It's a flexible metal with the soft luster that makes rings, necklaces, and bracelets more stunning. However, silver is more delicate than other commonly used metals in making jewelry. In addition, it is prone to stains, scratches, and tarnish, hence requiring frequent cleaning. So if you want to learn the simplest ways in cleaning your tarnished silver jewelry, the following tips will guide you through how to clean silver jewelry and help you keep them lustrous and new.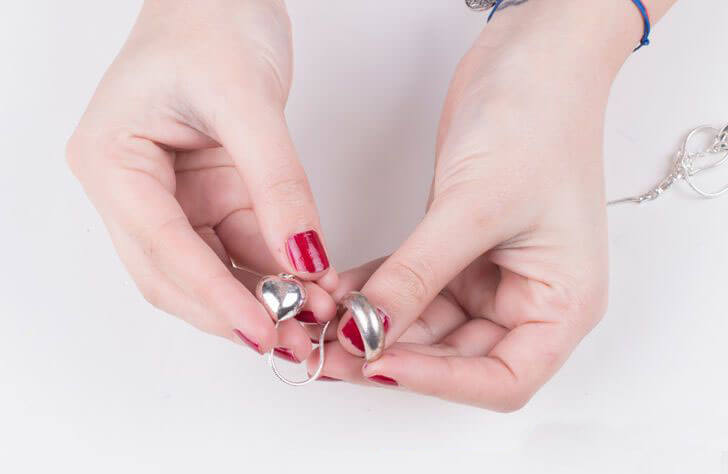 Aluminum foil
With the aluminum foil method, your tarnished silver will look new again. Just mix a piece of aluminum foil, a tablespoon of baking soda, and a liter of water in a pot, then let it boil. Put your silver jewelry in the boiling pot for at least 10 seconds or longer if your jewelry is awfully tarnished. Use kitchen tongs to remove the silver from the hot water. Rinse it well and dry before wearing the jewelry again.
Hand sanitizer
Hand sanitizers don't only kill germs. They are also used in polishing silver items. To rub off the tarnish, use a soft cloth with a small amount of hand sanitizer. Look how shiny your silver jewelry will be after using this cleanser.
Toothpaste
It doesn't matter what brand of toothpaste you are using. Squeeze pea-size on a cloth to polish the silver. Rinse it well and air-dry. Your tarnished silver will surely look new again.
Conditioner
If you don't want your silver necklace, bracelet, or ring to get easily tarnished, you can rub a small amount of hair conditioner to keep it shiny.
Detergent
You can also use laundry detergent to cleanse your tarnished silver. Find a medium sized bowl in the kitchen and place an aluminum foil in it. Fill the bowl with boiling water while mixing a tablespoon of laundry detergent powder. Soak the silver jewelry for at least one minute. Make sure to rinse it with water and air-dry for best results.
Catsup
Another home remedy for tarnished silver is ketchup or catsup. Apply pea-size catsup on a clean paper towel and gently rub it on the tarnished silver. But if the tarnish is hard to remove, leave the item with catsup for 15 minutes or more. Rub the silver jewelry with a soft cloth, then rinse clean for a shinier look.
Cornstarch
Make a paste out of water and cornstarch to make your silver new again. Use the damp cloth to apply the paste to the item. Let it dry and use mildly abrasive cloth like rough towel or cheesecloth to rub off the tarnish and make it shinier. If you don't have cornstarch in the kitchen, you can also use cream of tartar as it works the same when cleaning silver pieces of jewelry.
There are actually a lot of ways to clean your tarnished silver. And these are only some of the quick tips you can use. You don't need to spend a dime on polishing your favorite silver item because these cleaning products can actually be found at home and in your daily consumptions.