Fashion jewelry can bring wearers much glamor and enhance their unique touch of flair at most of the occasions. However, if they are not cleaned periodically, they will lose a lot of its luster and sparklingness gradually. A jewelry cleaner, like jewelry steam cleaner, offers a quick and safe way to clean and polish dirty jewelry. It is really a portable cleaner machine for both professional and home usage. Steam jet jewelry cleaner can easily resume your jewelry's shininess within a few minutes.
The way the steam cleaner works is users pour tap water into a water tank. The water is boiled by an internal heating element. Once it is ready, you simply place the device into the cleaning bin, where a blast of pressurized steam cleans the jewelry. When the process is done, simply remove the jewelry and allow it to dry for a few minutes.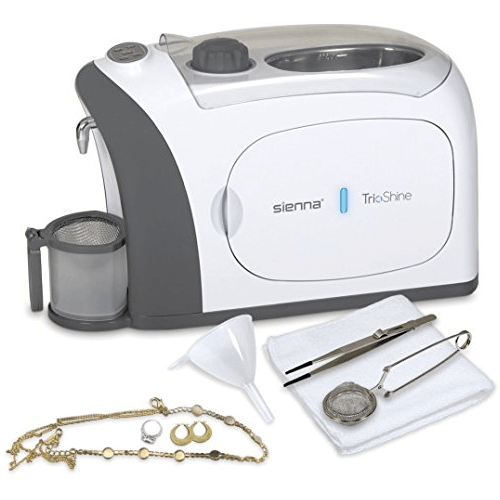 The Benefits of Using a Jewelry Steam Cleaner
The process does not use any chemicals. Thus, there is no risk that an abrasive cleaning solution will damage your jewelry;
The whole process takes just a few minutes from when you pour the water into the reservoir to the end of the cleaning process;
You can use it to clean old pieces and increase their resale value, if you decide to sell them;
The steam also disinfects the jewelry, since the heat will kill most common germs and bacteria;
Since the process uses only steam to clean, there is no residue left behind, which could be harmful;
Steam cleaning is environmentally friendly, since it uses a chemical-free process that does not leave behind any residue for disposal that might be a source of pollution;
Comparison Chart of Top Rated Jewelry Steam Cleaners in 2018
| Jewelry Steam Cleaners | Products Image | Product Dimension | Features | Price |
| --- | --- | --- | --- | --- |
| | | 12 x 11 x 10.8 inches | The World's Only Ultrasonic/Steamer Combination | $$$ |
| | | 6 x 10 x 10 inches; 3.9 pounds | 50 PSI (Pounds Per Square Inch) Steam Pressure | $$$ |
| | | 9.2 x 16 x 10.5 inches; 15.6 pounds | 2/3-gallon tank for up to 4 hours of continuous dry steam | $$$ |
| | | 9"W x 16"D x 11-1/2"H | Combination system of steam and ultrasonic cleaning | $$$ |
| | | 12" x 15" x 11" | safe, portable, and simple to use | $$$$ |
| | | 9.2 x 16 x 10.5 inches, 14 pounds | Easy-grip steam gun; auto shut-off | $$$ |
| | | 20 x 14 x 12 inches ; 21 pounds | Using aluminum thermal core heaters and no storage tank | $$$ |
| | | Height 8.5" x Width 8" x Depth 11" | Steam pressure 75 PSI; Water capacity 1 Liter | $$$ |
Top 4 Best Jewelry Steam Cleaners Reviews
The following are best selling 4 out of those jewelry steam cleaners on amazon.com. I pick them out to write a short brief review and introduction for each. If you are looking for a powerful steam cleaner, these reviews help you choose the best one with the least hassle.
The GemOro 0377 UltraSpa combines both steam cleaning and ultrasonic cleaning in a two-step process that ensures that your jewelry will sparkle like new. It starts with an ultrasonic scrubbing that removes surface dirt and grime, followed by a blast of pressurized steam to clean off deep-seated dirt and residue.
The ultrasonic cleaning feature generates 42,000 waves per second and uses regular tap water rather than jewelry cleaner to clean. It works on a six-minute timed cycle that automatically shuts off after cleaning is done. The steam cleaner generates a powerful 50-PSI of steam and has an activation feature that allows burst steam cleaning on demand.
The GemOro 0377 has a one-pint water reservoir, built-in water funnel and a built-in blue tank LED light so you can observe the cleaning process. It also features an attractive Grey Slate finish. Accessories include a measuring fill cup, tweezers for handling jewelry, steam residue mat and two handheld mesh baskets in different sizes, which can be kept in a rear storage compartment. It is backed by a one-year limited replacement warranty. Read the full review for GemOro 0377 model here.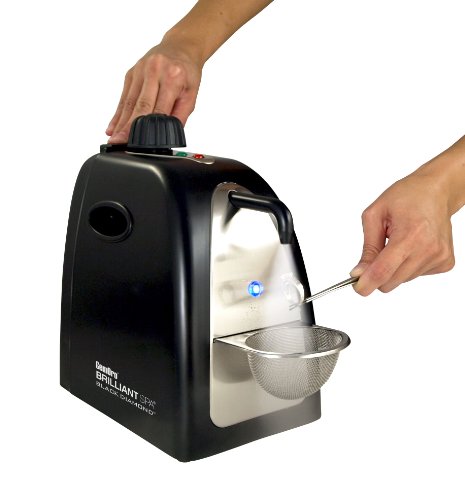 The GemOro 0362 is a compact jewelry cleaner with oversized cleaning abilities. The unit comes with handy carrying handles that let it easily be moved to where it is needed and then put aside for storage. The body is made of long-lasting ABS, accented with stainless-steel panels in a contemporary style and a Black Matte finish. The unit is backed by a two-year limited replacement warranty.
The cleaner can generate 50-PSI of pressurized steam to ensure thorough cleaning of your jewelry, leaving them glittering like new. The reservoir can accommodate up to one pint of tap water and a LED indicator alerts you when the water is heated and ready for use. The tank also features LED illumination so you can observe the jewelry while it is being cleaned. Accessories include a measuring cup with the water funnel, tweezers, steam residue mat, and basket for holding jewelry.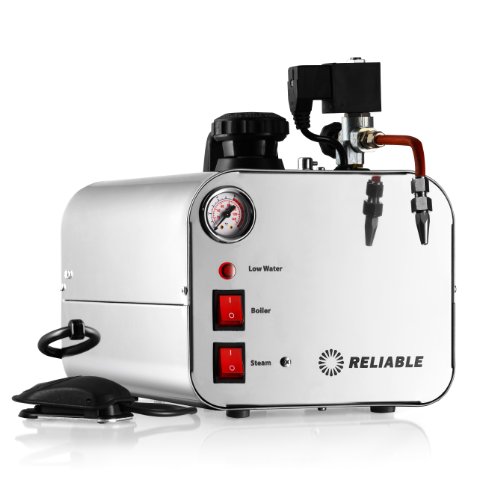 The Reliable 5000CJ is ideal for heavy-duty steam cleaning jobs, since its 2/3-gallon tank gives you up to four hours of continuous cleaning. The steam nozzle is controlled by a foot pedal and comes with an auto shut-off feature for safety. The cleaner generates 50-PSI of pressurized steam to ensure that even the most deep-seated grime is removed. The manometer pressure gauge tells you how much pressure is being generated. It warns you when the pressure is too high so you can turn off the unit.
The Reliable 5000CJ is versatile enough to be used for other cleaning jobs as well. It can also be used to clean dirty tools. It is compact enough that it can be kept on the counter of jewelry shops for spot cleaning of pieces that are sold to customers.
The unit is made in Italy. It features fine craftsmanship to ensure that it will provide you with dependable service for years to come. Its components include heavy-duty 12-gauge wiring as well as a ceramic terminal block used in applications where very high temperatures are generated. It is backed by a lifetime product warranty.

The personal-sized GemOro 0375 provides you with an effective way to keep your precious jewels clean. It can generate 50-PSI of pressurized steam to ensure that even grime hidden in inaccessible places is removed so that your jewelry glitters like new. It uses tap water and has a water reservoir capacity of one pint.
Users just pour the required amount of water into the reservoir using the provided measuring fill cup. Screw in the lid and turn on the unit. The green indicator light will tell you when the water has been heated sufficiently. Use the included tweezers to place the jewelry in the cleaning basket and turn on the unit. The jewelry will be cleaned with a blast of pressurized steam and the process is finished in a few minutes. The tank is illuminated with a blue LED light so you can monitor the process. Remove the basket and allow the jewelry to dry, and you're done.
The GemOro 0375 has compact dimensions of 6-inches by 6-inches so it won't take up a lot of counter space. It also comes with easy-lift handles so it can be easily transported and stored. It weighs less than four lbs. The steam cleaner has a durable cabinet made of long-lasting ABS and enhanced with accent panels made with stainless steel as well as an attractive Grey Slate finish. It has a two-year limited replacement warranty.

Jewelry Steam Cleaners Related Products