Brass is an alloy that is valued for its workability, hardness, malleability, and resistance to corrosion. Brasses with slightly different chemical compositions go by different names and have distinct qualities and uses. 260, 360, and 330 brasses are one of the most common alloys used in the industry. Their uses range from musical instrument production, plumbing, decoration, and low-friction applications. Additionally, brass is also widely used for making rifle, handgun and many other firearms' case and parts. We have other gun cleaners reviewed here.
Residue from firing usually collects along a shell case's body, but most of them are concentrated around the neck and shoulder area. Heavy residue on your gun case's body is a telltale sign that your ammunition's neck isn't sealing properly or fast enough. It's your gun's way of telling you that it needs to be cleaned.
There are a number of reasons as to why cleaning your gun's cases is important. For one, cleaning your cases avoids the accumulation of debris and the contamination of your load. It prevents debris and grit from building up in your dies and allows you to easily inspect and spot potential problems.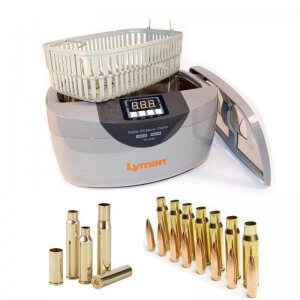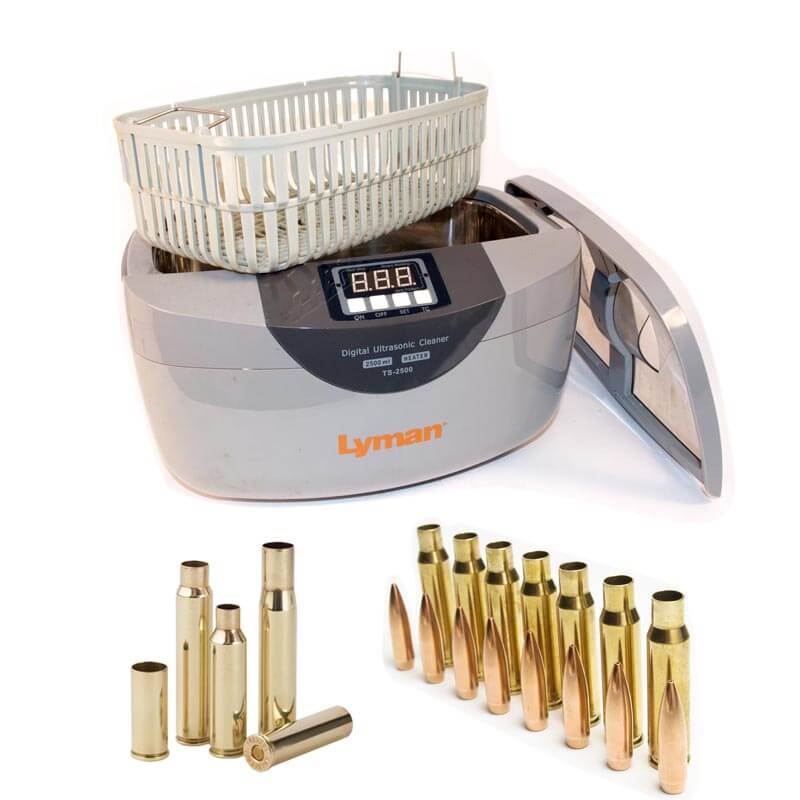 What is an ultrasonic brass cleaner?
There might be many ways to clean brass gun cases and parts. Ultrasonic cleaning, which uses an ultrasonic brass cleaner, is among the one of most favored methods of usage. These ultrasonic cleaning machines uses high-frequency sound waves to remove contaminants from objects immersed in a liquid. The ultrasonic sound wave can reach into crevices and hard-to-reach areas to remove debris that can't be cleaned by other processes.
It rose to fame about 15 to 20 years ago when the government banned the use of chlorofluorocarbon cleaning agents. Since then, ultrasonic cleaners have been dubbed as more effective and environmentally friendly alternatives to chemical cleaning agents. In fact, reviews show that it does a better job at degreasing and cleaning, and is faster and cheaper than its chlorofluorocarbon counterparts.
How to choose an ultrasonic cleaner for brass cleaning?
Investing in an ultrasonic cleaning machine may seem like a daunting task for a first time buyer. If you try getting one without doing much research, chances are you'll either be wasting your money on a bad buy or completely getting something you can't use.
First time buyers often follow a checklist of factors to help them in making the right buy. Like most purchases, buyers always ask themselves whether they need the product or not. You'll have to know what you're using it for; this will help determine the size and type of cleaner you're buying. If you're planning on cleaning larger parts, you'll have to match your object's dimensions with your cleaner's basket.
Your cleaner won't be cleaning much if your object's too big, so get yourself a basket that matches the depth, length, and width of what you're cleaning. Additional purchases like heaters and sweep mode operation all depend on the object and contaminants you're using the cleaner for, so it would also be best to do some research on whether you need them or not.
Lastly, knowing the frequency your cleaner should be set in is a great tip for making the right buy. Not all frequencies work for the same objects; determine your object's surface roughness before buying a cleaner to spare yourself from making a crucial mistake.
Who will need ultrasonic brass cleaners?
Ultrasonic brass cleaners are great for people who have tarnished brass items that need cleaning. They may be a more expensive buy, but their many benefits make them a cost effective choice for any buyer. If you run a gun smith shop, a powerful and efficiently ultrasonic brass cleaning machine is must-have one. It can complete cleaning and polishing work for large amount of small parts and cases in just a few circles. It is really convenient machine to save you much manual work and pain.
Lyman Turbo Sonic Case Cleaners
have been a trusted brand for many years. They're a very helpful tool to own for cleaning brasses, especially when your objects are clogged with all sorts of residual elements. It reaches into nooks and crannies and ensures a thorough clean in very little time.
Lyman Turbo Sonic Case Cleaners have been used and recommended by gun enthusiasts ever since they were released. A great thing about this product is the fact that it's able to save you from painstakingly cleaning out the soiled nooks and crannies of your device. Now you don't have to worry about the clogging since it eliminates any possibility of having leftover dirt and residual elements. Purchasing this can also save you a lot of time. Lyman Turbo Sonic Case Cleaner can clean your case twice as fast as manual cleaning. It is a great buy because you are investing in a product that is in for the long haul. The Lyman Turbo Sonic Case Cleaner is durable, affordable, and useful— but most importantly, it saves you time, effort, and of course, money.
Conclusion:
Cleaning brass manually can be a huge pain to deal with. But when it all comes down to it, you don't have to do it. Save time, effort, and money by investing in an ultrasonic cleaner. There are many other gun cases and parts cleaners online, apart from Lyman Turbo brand. You need to know your own cleaning needs well and then do deep research for any cleaner you intend to buy.  Hopefully, this brief guide can help you choose the best ultrasonic brass cleaner for your guns and firearms cleaning work.